Running New Romex and Adding an Electrical Box to Re-Install a Bathroom Fan
One of the bathroom fans in my new pad was installed by the same Joe Handyman that brought you electrical tape on a wall switch and the decorative phone jack.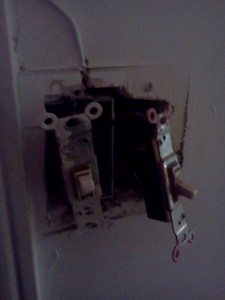 Not only is the fan wired in series with the light switch, the switch is screwed into the drywall and the neutral is running up the outside of the wall!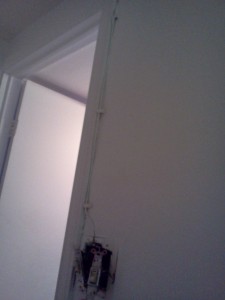 Through a giant, ugly, silicone-plugged hole and into the bathroom: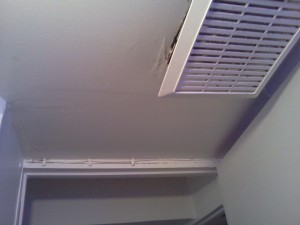 Connected to the fan with a thin twist of electrical tape!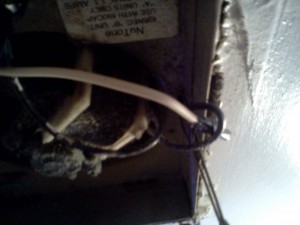 I cut a hole in the drywall above the switches to help me run the cable around the stud to the right of the door: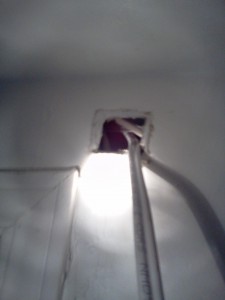 When cutting a hole you intend to patch over later make an angled incision in the same fashion one would the top of a jack-o-lantern, such that the wedge can be re-seated with spackling paste without falling through.
North American electrical codes call for at least 14-gague non-metallic sheathed wire for 15A circuits, commonly referred to by the trademark Romex.
The sides of most single-gang electrical boxes can be unscrewed and removed so that two or more boxes can be joined together.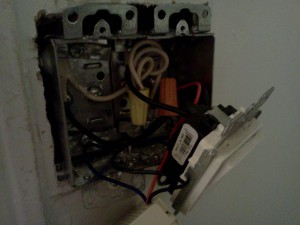 Make sure all of your grounds are securely connected to the electrical box and the neutrals have been connected and capped. I've connected a WS12A X10 remote control dimmer and a regular decorator-style toggle switch for the fan.
If you are installing remodelling or "old-work" boxes such as these (you can tell the difference by the tabs on the top and bottom for mounting on the surface of drywall) cut the drywall neatly around it so that it fits snugly in the wall. You can see from the first image that this hole was already made too high to accommodate the original old-work box which was recessed (without removing the tabs) and screwed into the door frame stud like a new-work box; while undesirable this shouldn't be too much of a problem since the faceplate will cover the gap and the electrical box can be sufficiently secured with the bottom tabs alone.
I don't recommend mounting new-work boxes until you have a faceplate handy since drywall will not tolerate minor adjustments in screw positions.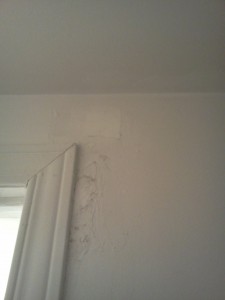 Now spackle and re-seat any plugs you've removed from the wall. I used Poly Filla Big, a 2 inch putty knife and a damp J-cloth to patch this hole. Simply sand, level and paint once the spackling has set to make it disappear. The hard part will be hiding all that silicone numbnuts left me…