December 19th, 2011
By كارما
I did not expect to be writing my third product review so soon but my bulk order of eGo-W Variable Voltage kits came so fast that here we are. An eGo-W is essentially an eGo-T with a third party (Eliq) tank cartomizer. Add a variable voltage battery with LED status indicator and you have the eGo-W Variable Voltage from Esco Technology.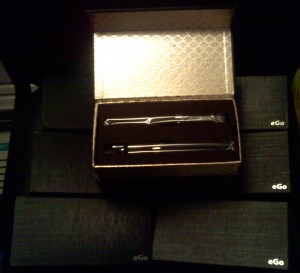 This kit retails for up to $120 in Canada but if you're able to fill an order for at least 10 they run about $38/unit after shipping. It took only four days for my package to leave Shenzen, China and arrive in Vancouver, half a day to clear customs and only another two days to reach me here in Ontario. Mind blowing. The coffee maker I had shipped from the states a month ago only arrived today. :/
The kits include:
2 × EGO-W clear atomizer
2 × VV batteries
1 × Inject bottle (10ml)
1 × Wall Charger
1 × USB charger
1 × User manual
eGo-Ws also have a pen-style cap with a clip on it. This sounds more useful than it is, because the (at least 1100mAh) batteries are long and heavy enough to club someone to death with. I do like the cap for the fact that it keeps the mouthpiece from getting filthy when in transit but the clip exerts an alarming amount of pressure on the – as I am beginning to read – fragile inner cartomizer.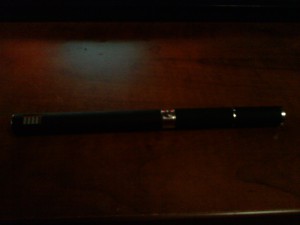 My shipment came with two (I am assuming) sample eGo-T type B (cone) atomizers and 5 T-style tanks. If my first W cartomizer breaks like this guy's I'll be giving those a shot and appending my findings:
eGo batteries support 510 atomizers and cartomizers thanks to dual threading. I can't see myself using the atties off of my 510s; so far I have found the W cartomizer to be superior in every way. There is none of the burnt polyfill taste that comes with cartridges and the e-juice flavour comes out much more clearly.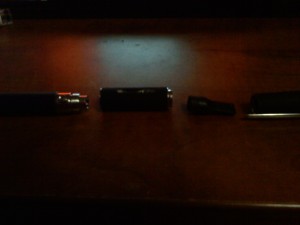 The part that makes this particlar e-cig really cool is the variable voltage battery. Though I was hoping there would be a 5-click safety on-off as in some newer eGo-T batts this is sacrificed in the variable voltage battery; it is always ready and clicking the button 5 times in under 2 seconds changes the voltage.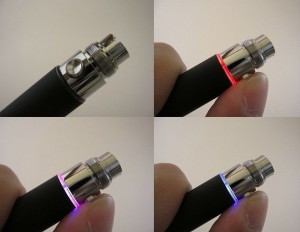 Voltages range from:
3.8 – 4.2V   Blue LED
3.4 – 3.8V   Blue & Red LED
3.0 – 3.4V   Red LED
I am so glad I went with variable voltage batteries. I can see the higher voltages causing problems with additives that combust at too low a temperature but the high setting is so intense it can make me cough. This is exactly the kind of experience I was hoping for in terms of vapour production, throat hit and flavour purity.
It would be nice to be able to disable the battery indicator; on a full charge 5 LEDs must be powered on every hit. That's a lot of juice that could be better spent … vaping juice. On that note, if you're ordering bulk you'd be an idiot not to go with the 1100mAh batteries as they only run $2 more per unit than the 650mAh batts. If your regular 650mAh eGo-T only lasts so long without charging imagine what the higher voltages would mean to your vaping time.
I have one serious issue with this model. To fill a new cartomizer one must puncture an indentation in the silicone plug that is flush against the side of the tank. The indentation only goes about halfway down the plug. This results in a lop-sided plug after you've done your first fill, worse you may end up compromising some of the seal's integrity by coming out too far up or close to the side. I recommend removing the sleeve around the tank for this first step and make the puncture at as inward an angle as possible. Once the sleeve has been replaced it's probably wise to leave it there for the next refill(s) to reduce unnecessary stress on the tank plastic.
As with my review of the 510s I'll be adding updates to this post as these begin to grow on me (or not).
I also want to make special mention of Ms. Lucy Lu of Esco's excellent customer service; she was a pleasure to deal with and kept us informed of our order's progress every step of the way.
UPDATE Lucy was kind enough to send me some great shots of the individual components of the eGo-W:
I should note that – possibly due to the fact that these were being shipped to Canada – the filler bottles in my order came empty despite the apparent option of different strength juices.
Another thing I want to mention is that the low air resistance on this cartomizer is fantastic. The draw is nowhere near as hard as with the 510s so it is possible to puff without straining one's cheeks. I found with the 510s I have to smoke them like a joint; straight into and only with the lungs. The Eliq cart provides a much more realistic cigarette experience despite the default flute tips, which I am getting quite used to.
UPDATE Day three and I'm still at half the factory charge, having used only one battery. I think I mixed the blackberry juice a little heavy on the nicotine and the all-round better experience this e-cig provides has significantly reduced how often I vape. I also haven't had to re-fill yet, and the hits are staying consistent (though decreasing slightly with the battery's charge). I don't want to come down on the 510s because they were good enough to get me to quit smoking but they are absolutely no match. I can never go back.
As far as my addiction is concerned I am going so long between puffs now I often forget why I feel mildly stressed in a peculiar way and have to think about it for a minute before I realize I could use a hit off the vape. This provides instant relief, I can feel the first three or four puffs rushing up my spine and into my brain. It's definitely time to kick the nicotine down a notch.
My only complaint so far is that this morning I started getting juice in my mouth. After taking off the flute tip it's clear this is from condensation and not leaking by the way the droplets are configured within the chamber. It just takes a q-tip to clean but I am wary about removing and re-inserting the mouthpiece more than absolutely necessary to prolong the life of the tank.
UPDATE I refilled my cartomizer with "apple candy" juice mixed fresh last night and realized that when you inject juice into the tank you can create tremendous pressure on the tank walls from within. I don't think it's a leap to suggest this might make the cartomizer particularly vulnerable to shattering. I recommend that after every fifth or sixth of the tank that you fill it should be brought battery-connection-up so you can suck some of the air pocket into your squeeze bottle.
UPDATE The unit rolled behind my keyboard while typing. It took me a while to realize I was hearing the atomizer firing. The coil has discoloured the silicone around it and there is a bit of an off-taste. If I place another order I'm going to see what can be done about the 5-click on/off safety mechanism found in newer regular eGo batteries.
UPDATE One of the customers left their cig in a car outside over night. It froze and the tank shattered. This is probably an obvious one to avoid but worthy of mention nonetheless.
UPDATE It has only been 8 days and I've already managed to burn both of my cartomizers. I just loaded up a "type B version 2″ or regular cone atomizer and tank. Much to my surprise there has so far been no overtly disagreeable taste from the primer fluid. The regular atomizer does not produce nearly as well as the Eliq W cartomizer and I find the larger flute-tip of the tanks less comfortable.
UPDATE Still going strong with the cone T-type atomizer and tank. It hits well enough and I've had no problems with leakage etc. Touch wood. Every filler bottle that came with the kits and I have used (about 4 so far) has broken at the tip on the first use. Be careful when you withdraw the needle or it may stay stick in the silicone.
UPDATE Day 18. The cone T-type atomizer and tank are still holding up well. Just made some Juicy Fruit juice, not bad. Doing peach in the T right now and it's still weak, will try adding more flavour drops. One of the customers passed her e-cig around at Christmas and something happened whereby it stopped hitting and the Wildberry juice I mixed myself turned fluorescent piss yellow. Will investigate when I have time. Cleaned out my first W cartomizer today. Pretty sure I ruined the seal by pressing to hard on the air straw, which also serves as one of the battery contacts so this may hold it in place. Also may have put the silicone seal on improperly. We'll see. Serious pain in the ass, got my hands and the carto covered in full strength nicotine juice. I'm wired.