UPDATE CoreNetworks.net has responded and reacted to my criticisms below. Please read the comments on this article to see our exchange.
It has been 30 days since I first told you about CoreNetworks' unfortunate bandwidth test file placement, which they have still not bothered to correct. Against my better judgement I decided to give them a second chance this morning when, upon configuring my order for 100mbit/s port (+$10) and 3300GB (+$55) add-on I was surprised with this error: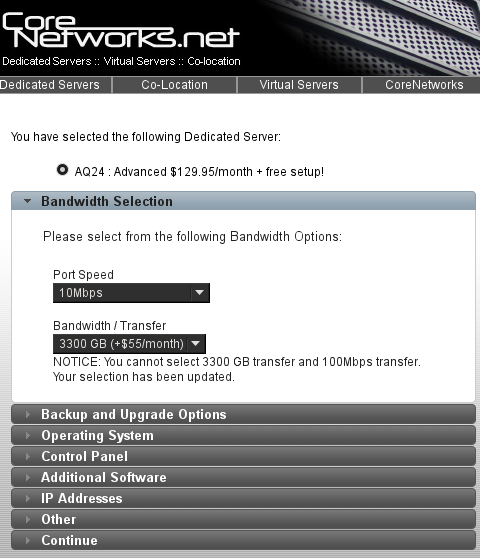 NOTICE: You cannot select 3300 GB transfer and 100Mbps transfer. Your selection has been updated.
Well, why not? That doesn't seem to make much sense. Since they called the 100 meg port "transfer" and the amount of bandwidth "transfer" as well I assumed some dolt that didn't know what he was doing was behind this glitch in the order process. So I called.
"3300GB is by definition an unlimited 10mbps port"
In the same breath their rep told me:
I couldn't get more than the 2000GB package plus per-GB overages on 100mbit/s despite the fact that they could "technically" give 3300GB to 10mbps port users

I guess we are to assume their network is so poorly constructed the extra TB at 100mbit/s would crush them

If you went with the 10mbps port and the $55 1.3T add-on (3300GB package) the only way to get your money's worth would be to saturate the connection 100%, 24/7, all month long.
If 3300GB is synonymous with an unlimited 10mbps port we're working in terms of egress traffic only
Let's verify the math to make sure I'm not jumping to any conclusions:
Seconds in a month: 2629743.83
Bits in 3300GB: 28346784153600
Bits per second: 10779294.9
Mbits per second: 10.2799367 (binary) 10.7792949 (decimal)
The fact is no matter how you slice your megabits they are selling you more transit than you can possibly use on a 10mbit/s port. Even if we start with a decimal gigabyte you would have to transmit at 39Kbit/s faster than your port speed all month long just to reach your quota.
It's not just false advertising. It's a scam.
Made worse by the fact that their FAQ misconstrues the truth:
What type of connection will I have?
This depends on the type of connection you choose. All servers are connected to 10Mbps switch ports (100Mbps ports are available for certain plans). You are able to select flat-rate capped bandwidth on a per-Mbps basis, or you could opt for burstable metered bandwidth. We make both options available to help you find exactly what you're looking for. You can upgrade from a 10Mbps port to a 100Mbps port for an added $10/month. This does not change your allowed data transfer amount, and care should be taken to avoid unexpected overages if you decide on this option.
It's also interesting to note that "flat-rate capped bandwidth on a per-Mbps basis" no longer seems to be available (it was when I was with them aeons ago).
Despite all the nice things I've said about their support, their level of sloppiness and shadiness makes CoreNetworks.net inadequate for serious hosting.