This American-South-meets-Canada dish is delish and succeeds at offending all three major religions! Not only will we be cooking with pork it's going to be virtually poached in dairy for bonus points.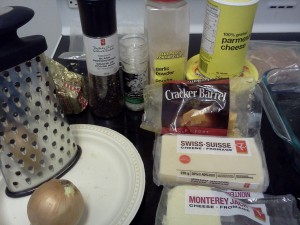 You will need:
Potatoes, pealed (optional) and sliced thinly (not optional)
Milk
A bunch of different cheeses that are appropriate for cooking, I used:

Swiss
Cheddar
Monterey Jack
Parmigiano (essential in any baked cheese dish for its sharpness)

Butter
Margarine or shortening if you are lazy about greasing
Black Pepper
Salt
Flour
Garlic (minced, pressed or powder)
Onion (finely diced or powder)
BACON!!!!!!!!!!!!!!!!!!!!!!!!!!!!!!!!!!!!!11one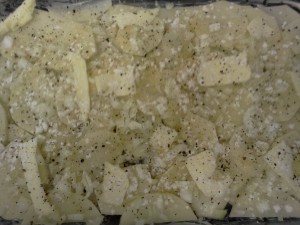 Grease a large baking dish and arrange potato slices in a relatively even layer. Top with seasonings and a small hunk of butter here and there. Sprinkle with flour or corn starch – this will thicken the milk into a nice creamy sauce while baking.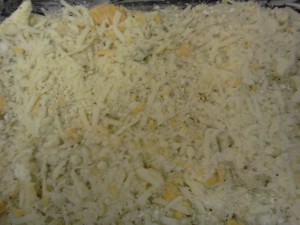 Top the layer with mixed grated/crumbled cheese.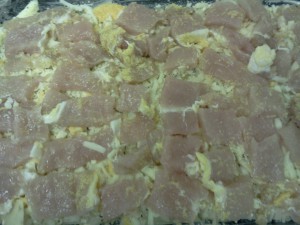 Add your layer of bacon. We're using peameal bacon (actually cornmeal) which is what you should be served in an American restaurant when you ask for Canadian Bacon, not the dry slice of ham they will actually give you. Strip bacon probably works fine (maybe better for taste) but will kill you faster – which is something you ought to be concerned about tossing around all this cheese. I cut this bacon into bite-sizes because I shave it off the block steak-thick and this would otherwise prevent making a clean scoop when it comes time to serve.
Top your bacon with another layer of potatoes, seasoning and cheese. Slowly pour milk in until it just covers the top of the potatoes.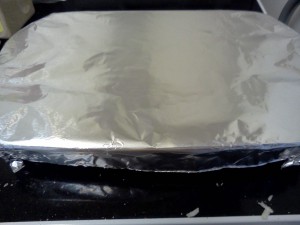 Foil that badboy up and bake on 400F for a little over an hour.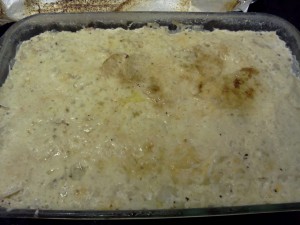 Now that it looks and smells fully cooked remove the foil. You might want to add another layer of parmigiano or even breadcrumbs to produce a crunchier top. Return to the oven until you have achieved the level of browning that suits you.
If I don't post again in a week call the amberlamps!