February 24th, 2012
By كارما
The last goon who lived here ripped the surface-mount toilet paper roll holder out of the wall.
These holes are easily cleaned and filled in with spackling paste. Cut any of the paper fluff from around the edges of the holes at an angle so that the hole is tapered inwards.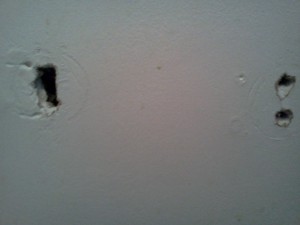 Unfortunately, bigger holes require layering.
And more layering.
Once you have a slight bulge above the surface of the wall sand it down smooth. I didn't know at the time I would be getting a recessed holder, which would have saved me a lot of time filling in the larger hole. Since it's the uglist of the two it's the one to go.
I measured 5.25 inches on a carpenter's level and used a dry-erase marker to plot my cut. It would have been a good idea to put a screw in the middle when I started cutting so I could cut straight without losing the hunk of drywall.
This holder has a bracket which clamps to the drywall. It may take some fiddling to get it mounted but it is important to secure it to the faceplate before mounting or you risk losing it in the wall.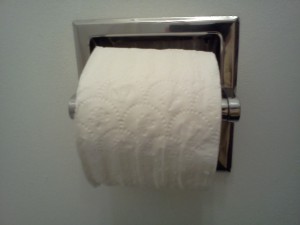 Nice and shiny. If someone rips THIS holder out of the wall they'll be taking the whole gypsum board with it.