I gave up cigarettes for e-cigs 29 days ago today. Until now I have been vaping various tobacco flavours but the concentrated flavour additives I ordered from The Perfumer's Apprentice have finally arrived. E-juice - the stuff that makes it "go" - isn't a very clear-cut matter. For instance, in many countries there are difficulties locally obtaining juice with nicotine. I had to ask some e-cig veterans for a "secret" list to find a Canadian vendor that would ship it. There are three different common bases for the e-juice and some people like to mix them in different proportions. The intensity of flavours varies from producer to producer. Rather than buying a sample from here or there to feel the market out I figured the more sensible route of action given the cost of materials would be to make my own juice to-taste.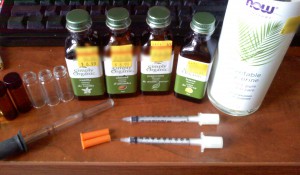 A week into my adventure I realized I would soon be running out of e-juice. At the time fearing I would only be able to get nicotine juice from China (~30 days shipping) and with little knowledge I hit up a health food store and bought a bottle of Vegetable Glycerine (VG) and some flavour additives. There are two things horribly wrong with this picture:
The gauge of those needles is far too fine to draw highly viscous VG; pulling the plunger on anything much smaller than an 18 gauge will simply suck the air in from behind
Those arty-farty organic flavour additives are oil based. Apparently using oil-based flavour additives in your e-juice may lead to a build-up of fluid in your lungs, which is conducive to respiratory infections.
With a little more research under my belt I ordered some water-soluble flavours from The Perfumer's Apprentice and some tobacco samplers from NorthernVapor.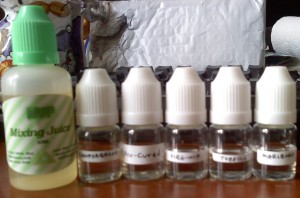 I have this to say about the tobacco flavours I tried:
Weak.
Canadabacco tastes grapey.
Flu-cured hits better in the nose, tastes somewhere in the ballpark of burnt toffee.
Naturally, the flavours become more dilute when mixed with an appropriate amount of nicotine juice. This confirmed my theory that it is not worth leaving the flavouring up to other people, whom are fallible and may not have as deadened taste-buds as we.
Behold:
It took them a while to ship and a million years to get here (US->Canada postal service is abysmal during the hollies) but I'm finally breaking into my new flavours:
Caramel Cappuccino
Maple Syrup
Bavarian Cream
Lemon
Maraschino Cherry - Very fruit-punchy. Sort of a powdery, perfumy rose petal undertone. Burns the tongue when over-mixed.
Apple Candy - Weak in small quantities, awful if over-used
Peach - Delicious but much less potent than Cherry, cart required full cleaning to noticeably change flavours.
Granny Smith
Key Lime - Crisp and refreshing!
Tea
Hazelnut
Cola
Juicy Fruit
Mango
Blackberry - Amazing! Has a sort of floral note in weaker concentrations. Cool fluorescent colour. Contains ethanol and hits strong! Good tolerance for under/overmixing. My favourite so far.
I'll post what I think of them as I try them out.
To make your own e-juice first decide what base you want to start with:
Propylene Glycol - The standard which most e-cig producers and commercial juice suppliers use.
Vegetable Glycerine - Slightly sweeter, produces noticeably more vapour.
PEG 400 (Polyethylene Glycol) - Some people say it's safer, some people say it produces more vapour and some say it tastes worse. It is usually the most expensive of the three.
Many seem to find that they are happier mixing two or even all three of these in varying proportions. The second item for consideration is nicotine. Nicotine is so poisonous that a couple of undiluted drops on the skin is potentially lethal. Chances are you can not and do not want to get your hands on some of it. Patronizingly, some "veteran" e-ciggers will throw a tantrum at the mere mention of the idea; but the fact is they're probably right and you're really not as clever or careful as you think you are.
The generally accepted standard in the e-cigging community is to try and get very high strength flavourless juice, be it from China or a local vendor if you can find one. I have seen juice with concentrations as high as 100mg/ml but the bottle I am working with currently is 46mg/ml which can be cut by two parts to produce "medium-high" juice. Obviously the lower the concentration of nicotine in the mixing juice the less room you have to add flavours etc. Some folks like to add a drop or two of ethanol or vodka (I imagine the higher the proof the better the taste) to enhance the throat hit. It's difficult to obtain scientific grade ethanol in Ontario without the benefit of paperwork but not at all difficult to distil; I will share my thoughts once I have tried it.