As mentioned in my last FurFinding article, I've been cleaning up the furry sites database at Yiffy International in preparation for the re-launch of FurFinder. Along the way I found The Furnpike, what was once the largest furry site directory on the web. The Furnpike started around 2000 and helped inspire the idea of the site review section on YI many years ago. Unfortunately, by now it had been defunct for some time.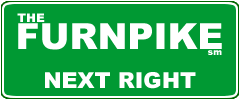 Having already created the code for a category-based site directory in 2008 - not unlike what The Furnpike was offering at the time - I realized this might be an opportunity to both revitalize an old furry landmark and put work to use that would never otherwise have seen the day. I sent my proposal to The Furnpike's founder who very graciously accepted and transferred the domain to us. Even before the domain had finished transferring I had completed porting the site directory code to run on its own and was already working on cosmetics.
When the site directory code was initially made I had categorized over a thousand sites, but since the collapse of Furnation and Furtopia hosting services only around 500 site-to-category associations remained. A few hours over the next two nights were spent categorizing the over 600 sites that had never been added to the directory using an interface that would be flattered if called half-arsed: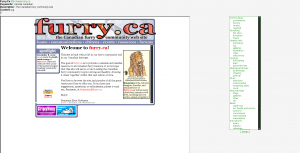 The end result is a brand new Furnpike with three times as many sites in its directory than during its peak. Admittedly, I sort of rushed through the categorization of the new sites and some of the categories will have to be re-thought. In time, and hopefully with some volunteer help, we'll be able to improve the category associations.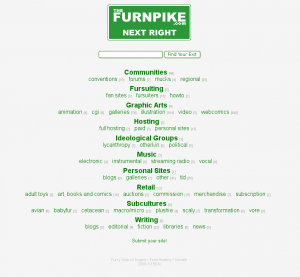 As an added bonus, links on The Furnpike are now routed through FurStumbler, a long-running YI feature which allows a user to input details about the kind of sites they are looking for then navigate backward, forward or randomly.