Do you remember the good old days before CAPTCHAs? It was a simpler time - bots spammed e-mail accounts, not websites. Few people thought of the security implications of accepting user input on their sites, even successful commercial outfits.
I've been doing a little tinkering with FurFinder lately and have come across a page which may indicate the year in which the paradigm shifted.
With the first post dated December 18, 2000 http://www.catswithhands.com/guestbook.html is a pre-Web 2.0 guestbook which permitted untested, unmoderated public write access for 6 years. It is 9.5MB long.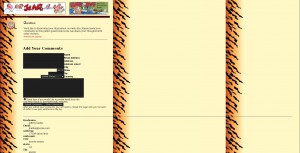 There are
$ grep "<b>Realname: </b>" guestbook.html | wc -l
4093

entries.
The spam began in earnest in 2004, after which there are only two or three posts by humans - a vivid illustration of how corrossive unchecked web spam can be to your image and audience.