I was invited to play low-stakes Risk recently and figured it would be prudent to brush up a little.
Imagine my delight when I came across this childhood favourite: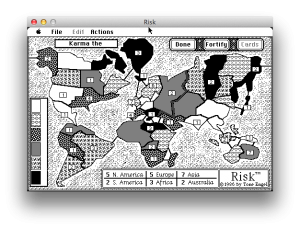 I recall becoming quite the little dictator playing this game on my Mac SE and, of course, most of the macs at school. Apparently it was released in 1986 by Antonie J. Engel a.k.a. Tone Engel as shareware (remember that?! on floppies!).
A big thank-you to Richard Loxley for preserving this gem and making it available as part of a Mini vMac virtual machine for Windows and OS X at http://www.richardloxley.com/fun/risk/.